Mitsuko's Strong Enough to Bend
We call her Willow. My "one man dog". She simply ignores anyone else but me. She's great with her family, but she only has eyes for me. She is very shy with strangers. She defines "loyalty". I love her. She hates the camera. Willow is nearly impossible to photograph! These pictures do not do her justice. She is drop-dead gorgeous. She weighs 100 lbs.
DOB November 26, 2013.
AKC # WS45994402
Hips certified OFA GOOD.
Elbows normal.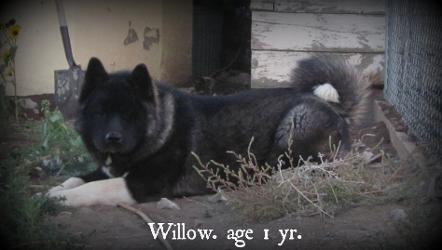 CH REGALIAS DARQ WOLF
OHJ B-LINE YOU GOT ME YOGI
SIRE B-LINE'S KEA HO OKALA KUPUA
CH BIG BEARS FROM THE DARQ SIDE
OHJ B-LINE YOU GOT ME YOGI
HOGAN'S "SIERRA'S MIST"
KUMIKO ASOBI-GO


CH RYERSON BORN IN THE USA
CH MARIAH'S BORN TO RUN
DAM CH MARIAH IT'S ALL ABOUT ME
FJELLBAMSEN'S TEA PARTY AT MARIAH
REDWITCH NO COMPROMISE
ZALEXMERINA'S WILLOW IN THE WIND
AKEEBA TOUCH OF ENVY TO MELODOR